Happy December! First snowfall of the year today. I used to love the first day of snow, mainly because we'd get a couple of snow days. Now, I can do without it—real life doesn't have snow days, and I feel like I've mentioned 1000 times or so I hate the cold. Hope everyone had a wonderful Thanksgiving holiday if you were celebrating!
Lots of FTT stuff going on, and in fintech in general, so let's dive right in.
---
NYC Related Announcement: Sent a note about this last week, but FTT & Galileo are throwing a holiday part in New York City on December 10th. Spaces are extremely limited and we've already had way more interest than expected.
---
RSVP's for the FTT Discord Office Hours ends at 12pm EST/9am on Friday, December 5th. As mentioned before, this is a fun experiment we're trying out where Fintech Today subscribers can chat about anything on their mind (ideally about fintech...obvs.) We have some great experts lined up, like Angela Strange from Andresseen Horowitz, Ashley Paston from Bain Capital Ventures, folks from American Express and more. Should be fun so sign up! Will be sending out an email directly with the times for the Office Hours.
---
This issue of Fintech Today is presented by Galileo Financial Technology.
Galileo had some big news recently: the firm announced a $77 million Series A, led by Accel. The stats are wild: $26 billion in annual payments processed—a 130% increase from the year before. Galileo powers Chime, Monzo US, Transferwise, and more. As a core banking product, Galileo allows their customers to develop high quality fintech products with some unique flexibility for their clients.
Galileo's also hiring a product owner for API's and developer tools.
"We need a product owner to help build the API platform and developer tools that enable our clients to integrate with Galileo. You will collaborate with our engineering, design, and customer-facing teams to discover user needs and build innovative solutions. As a product owner at Galileo, you will be empowered with ownership, given autonomy to make decisions, and free to explore new ideas." If you're interested, reach out to Egan Anderson at eanderson@galileoprocessing.com.
To learn more about Galileo, click here. If you're interested in working with Galileo, email eanderson@galileoprocessing.com (and mention Fintech Today!)
---
I've gotten like 5 questions about this story over the past week. Most of them have revolved around two things: is this a big deal? And why are fintech startups looking at bank charters?
No, Robinhood pulling their charter application isn't a big deal. In the CNBC article, a source told the publication that this didn't change their product roadmap. Because at this point, its clear that if you're a fintech startup, you don't need a bank charter to develop financial products. You can find the right infrastructure and bank partners to help you enable that functionality.
But obtaining a charter has it's benefits. One, you can essentially cut out one of the middlemen in the development process and improve your margins dramatically. Secondly, you can move faster—instead of waiting for your bank partner, owning the charter lets you significantly upgrade the underlying systems to reduce costs and increase efficiency. And in today's highly competitive fintech market, moving faster is a distinct advantage.
The process has its downfalls—there's a reason there hasn't been a full charter granted in years; it's a nightmareish, expensive, process. (Note: Varo has gotten preliminary approval for a charter, but still has to get approved by other regulators.) You need a solid team with significant banking experience, a deep understanding of compliance and regulatory systems, and a very good reason of why you need a charter, for starters. Robinhood's previous missteps with regulators definitely didn't help. Also, for fintech startups, you can't just sit and focus solely on getting a charter; you need to run your actual company in parallel to that process as well. And, because the cost and time around developing financial products have dropped so dramatically, fintech startups don't really need to deal with the intricate process in the US.
There's also the fact that Robinhood tried to get a charter from the Office of the Comptroller (OCC) versus an Industrial Loan Charter (ILC), which we've written about before. I'm working a deep dive into the difference between the two, but my early research indicates that an ILC is easier to obtain and is best for startups with a strong lending component. The OCC charter requires approval from the FDIC, which is tremendously difficult. Square's been relatively successful with the ILC charter, and a number of other fintech companies have applied for that one as well. But, despite the difficulty, I expect fintech companies to look into this pretty deeply. In the long term, the benefits are worth the hassle.
Brazilian Fintech
Brazil is a fascinating market when it comes to tech, and it's developing into one for fintech too.
Did you know:
• Nubank, a digital banking startup, is one of the largest digital banks outside of Asia, with 10 million cardholders, with another 30 million signed up?
• Sao Paolo is one of the top 5 cities in the world in terms of Uber trips, and Brazil is Uber's second biggest market behind the US?
• Brazil has 40% of the e-commerce market in Latin America?
A new report from investment bank FT Partners highlights the potential for fintech in the Brazilian market. Based on my understanding, the potential is there, but the murkiness around the political and regulatory landscape has made innovation there difficult. In my opinion, has been a deterrent for big tech companies from entering the market. The entire Latin American market has a lot of potential for startups, not just for digital banking and payments, but other services like remittance as well. This breakdown of the landscape from FTPartner is a must read, and definitely worth your time.
Chart of the Week
I also really enjoyed this chart about the market breakdown compared to other Latin American countries, also from FTPartners.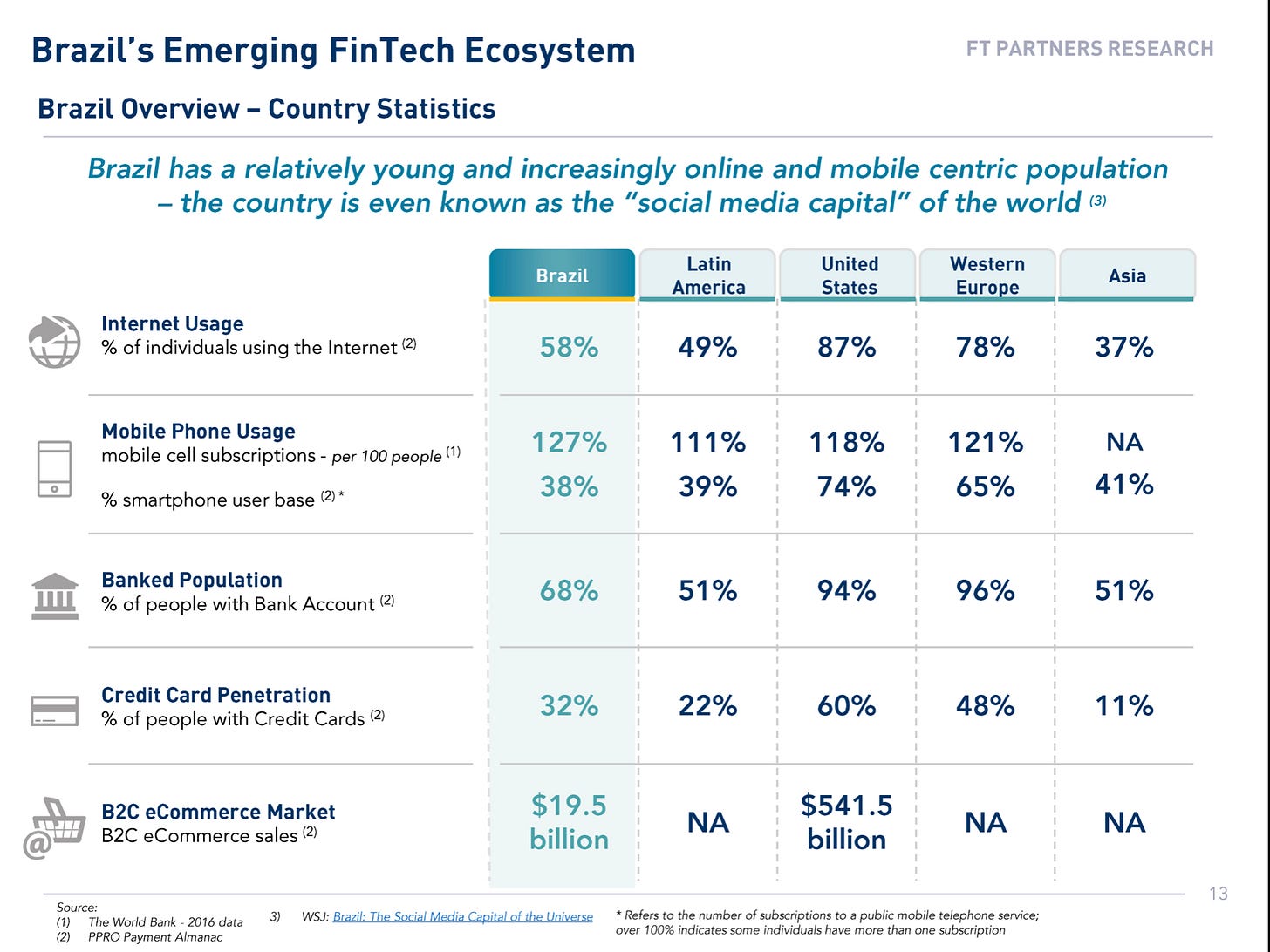 Funding News of the Week
Ualá, a personal finance startup based in Argentina, has raised $150 million led by TenCent and Softbank(through Softbank's Innovation Fund, which focuses on Latin America.) Ualá focuses on offering users a prepaid debit card and an app that aggregates financial services into one product. It also raised $34 million in 2018 in a round led by Goldman Sachs.
Job of the Week
Stealth Fintech company is hiring full-stack engineers and front-end engineers, as well as generalist business and product folks. They're growing really quickly and its a big opportunity to build the future of wealth management. They've started by solving a key issue: helping employees understand their equity better. I'm really excited about this company because a) the team I know there is incredibly bright and talented b) this is a problem that so many people I know deal with on a regular basis c) the opaqueness around equity packages is so frustrating and I think it needs to be disrupted.
If you're interested, send a short blurb about yourself to me at iankar874@gmail.com