Hey everyone! Ian here. I hope everyone's having a good Monday, despite the circumstances. This is a *really* long issue FYI!
It's a difficult time for a lot of people—I was pretty depressed a week ago, to be honest. I'll talk more about that in a minute, but for now I wanted to say: a) please, please, please take CoronaVirus seriously. It's real, and its a danger to everyone; it doesn't matter if you're young or old.
Most of my family is in the medical field, including my dad and my younger brother. Healthcare professionals are sacrificing their own wellbeing to help others. The least we can do is chill at home, and make sure we don't exacerbate the situation. Quite frankly, I'm fine being at my house for a month or two if that means my parents don't get sick.
For all y'all stuck at home, I made a Quaran-Tunes playlist for ya! The Weeknd dropped an album this past weekend, Childish Gambino aka Donald Glover did as well. I put some of my favorite tracks from their albums together, and added some new ones I've been listening to too. Hope y'all enjoy—they're upbeat and fun on purpose.
---
Meet this week's sponsors: Juno is a cross border neo bank backed by Sequoia's Seed Program. They recently came out of stealth and are building a powerful FDIC Insured High Yield Checking Account for the US! 🇺🇸
It recently opened up Priority Access for the first 1000 users which qualifies them for a 2.15% APY Rate, the highest in the current environment. With Fed cutting down on its rates, this is the perfect time to get in on Juno and save for a rainy day fund or an upcoming big expense. Since the rates are locked in for the year, you don't have to worry about rates dropping (as long as you're one of the first 1000 to sign up!)
Not just this, the first 1000 users also get a Juno Metal Card with 5% cashback on 5 brands of their choice and free cash withdrawals at over 85,000 ATMs. the company has all the top brands across the country to choose from, like Amazon, Walmart, Netflix, Amazon Prime, CVS and 30+ other brands.
Interestingly, the Juno team is currently based in Singapore and Bangalore and has created a lot of buzz in the Indian and Asian American community with their plans around developing a cross-border neobank. The company's working on faster and cheaper remittances for the US-India corridor and simple wealth management for value conscious consumers. If you or your parents sent money to India (like mine do) this could be a really valuable tool.
The first 1000 users with Priority Access can also schedule a Zoom call with the product team to learn more about Juno. I already signed up, but there are still 750 spots left for priority access.
---
Coronavirus
Most of my readers are dealing with the effects of the CoronaVirus spreading throughout much of the world. If anyone's directly affected, please accept my deepest sympathies and prayers.
Last Monday I was super depressed. This situation felt worse than 2008, when I was 18 years old, an economics student and was convinced the global financial system was going to crash. This seemed like a crisis that wasn't that solvable—between inept politicians and governments, the world financial markets tanking, and people literally dying, this "war" seemed unwinnable.
But that's the wrong thinking—time and time again, history has proven that the human spirit always perseveres. Maybe we don't have the best people in charge to fix things. And maybe the economy is going down the tube. But these are all solvable problems. My mother always said that problems are challenges in disguise, and the only way we can get past this is by working together to solve these issues. They're problems that are unique to us and our generation, and quite frankly, it does seem like anyone else cares as much as we do.
I'm really proud and inspired by my friends who have dedicated their time, energy, and resources to figure out ways to alleviate the issues around coronavirus. I'm not going to lie and say that this won't be a really difficult time, and that it's going to end soon. But if we band together, and work hard and together, we'll get through it, like we always have.
For those of you who are looking to contribute more, I recommend checking out Kabbage's new Gift Card program. Get your local restaurants and merchants on it, and buy a gift card so they can weather this storm. For others, check out the links below:
A buddy of mine, Shriram Bhashyam, is doing asking for donations to fight Coronavirus
Flexport started a fund: Flexport.org
Slack CEO Stewart Butterfield & Away cofounder Jen Rubio are doing a 5:1 matching ($5 to every $1 a person donates) to the following charities: OneFairWage Emergency Fund, Domestic Workers Coronavirus Care Fund, NoKidHungry, Any local organization sheltering victims of domestic violence. For more details, check out Stewart's thread here
---
FTT News and Events
In case you missed yesterday's announcement, I'm REALLY excited to announce that Julie Verhage from Bloomberg has joined Fintech Today. Julie's going to be running FTT+, a weekly premium newsletter.
Julie's first issue comes out on Wednesday, and I'm really excited. I'll also be chiming in with my thoughts on coronavirus's effects on fintech startups.
We're also launching FTT WaterCooler later this week as well, for FTT+ members. The FTT Slack (which remains invitation only) has been vibrant, but its clear there's a wider need for a fintech community, and we're really excited to facilitate that. Here's a taste: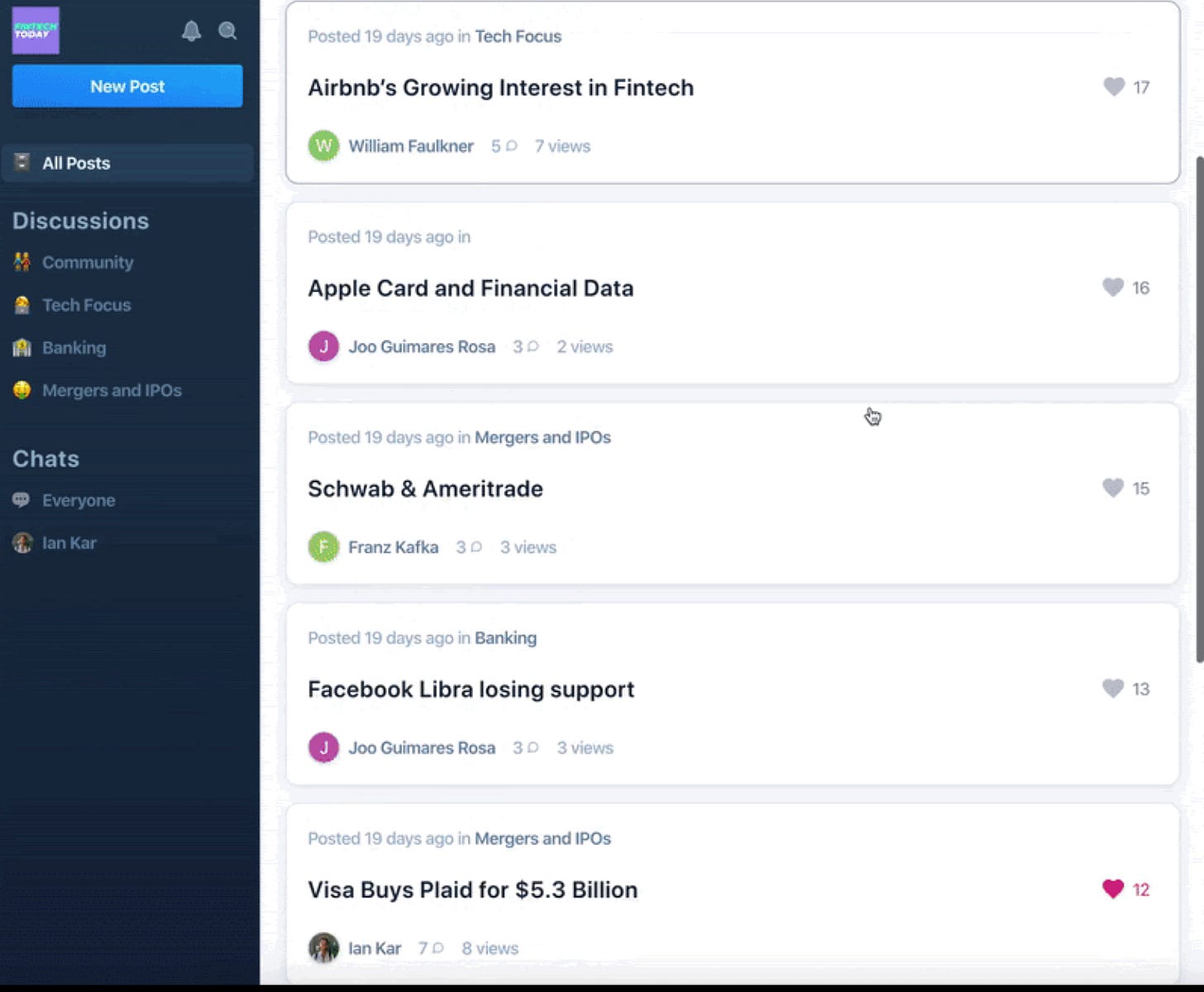 ---
News This Week
The Story: Arcus a US-based fintech company, is powering bill payments for 7/11 in the Latin American region. It works pretty seamlessly; users can download the 7/11 app and add a bill, and show the 7/11 cashier a barcode. Then, the user just simply pays their bills in cash, without any hassles. Arcus also works with 7/11 on a cash-to-digital product, where users can use cash top up their digital wallets (like Rappi, an Arcus partner) in 7/11 stores.
Our Take: We talk a lot about banking-as-a-service in the United States, but I think a bigger opportunity is in Latin America. Arcus has been on the forefront of this for years, starting out with bill payment solutions in Mexico and works with companies like Uber and Walmart. I recently joined Arcus as an advisor, and I'm extremely bullish on the space.
Galileo, a Utah-based fintech company, also expanded to Latin America recently, and opened up a massive Mexico City office.
The opportunity is clear—Nubank, the Brazil-based neobank, is the biggest neobank in the world outside of China. The Latin American market hasn't moved to cards yet, but have strong smartphone and internet penetration rates, similar to China pre-mobile payment boom. What's interesting around the Arcus solution is that its built around existing user behavior (cash) but also starts the user's journey into eventually moving the transaction online.
My hunch is a few US-based neobanks are going to start looking deeply at the LatAm market, as are a few banking-as-a-service companies too.
The Story: YC's Demo Day, usually one of the most hyped events on the Silicon Valley startup calendar, took place online last week, thanks to COVID-19 related concerns. That didn't stop a unusually large number of fintech companies though. TechCrunch has a great overview of them here.
Our Take: Interesting, there was a lot of fintech companies in this batch, but most of them seemed international focused. There was a lot of companies focused on:
Africa: CrowdForce, which lets local merchants act as bank branches; Bamboo, an online brokerage fro high net worth users in Africa to buy securities globally; Swipe, a Brex for Africa that helps small business by offering a credit card; and WorkPay, a "next-gen" payroll and HR company targeting small and medium businesses in Africa.

Brazil: like Facio (lending but partnering with employers for better data) and Stark Bank (banking API for B2B transactions),

Mexico: Delt.ai, a digital bank for small businesses and freelancers; Fondeadora, a neobank with 200,000 monthly active users.

India: GoDutch, a payments app where you can split costs for goods and services, like rent or bills; EasyPlan, a goal-based money savings app; yBANQ, a B2B collection company
My two favorites were GAS POS and Karat. GAS POS is kinda unsexy, but that usually makes the best business. Back when the US changed over to chip cards, gas stations got extra time to switch their point-of-sale systems over to the EMV standard. The issue? A lot of gas stations haven't, because switching your POS systems at the pump is actually a tremendously complicated process. It's an incredibly niche business, but if you can capture that market (and charge 3% of processing fees, which GAS POV is doing), it can be a really lucrative business.
Karat's also niche, but focused on influencers. Me and my friends have been chatting about the opportunity around this space for ages now. With a team that's ex Instagram and ex Goldman Sachs, the company seems properly suited to tackle the space. According to TechCrunch, Karat's achieved 40% APR with an average of 45 days for repayment. I think this space has a TON of potential so excited to see how Karat goes.
The Story: After years of planning and discussions with regulators, the FDIC has finally approved Squaure to for an industrial loan company bank charter. This essentially turns Square into a regulated bank, of sorts. Square Financial Services is expected to launch in 2021, and the primary objective will to offer small business loans for Square Capital's lending business, and offer deposit products too.
Our Take: FINALLY. I've been waiting for this moment; I think Square has a real possibility to upend financial services, and not just in the small business market but the consumer industry too.
First things first, while the timing is interesting, given how many small business merchants are shutting down operations, it seems purely coincidental based on my conversations. And it was obviously clear from the beginning that Square would take deposits for their customers and lend that money out through Square Capital. After all, for companies that service SMB's, that's the big advantage, and wouldn't be surprised to see other SMB lenders getting into the business banking space, either through partnerships or getting an ILC charter themselves.
But there's such a massive potential for Square to turn this into a big business. One path is through the banking-as-a-service concept: despite BaaS taking off on the consumer level, the same level of adoption or interest hasn't translated in the small business area. I wonder if Square will start exploring lending-as-a-service, becoming a business bank for non-Square merchants and using that data to power a lending product for non-Square merchants, even if they don't use Square for payment processing.
Another idea is to expand into consumer lending. I've talked at length about how dope Cash App is, but expanding into the credit or lending space seems like a natural extension. There's already an established user behavior in using the Cash Card as one's main debit card, a successful rewards program, and more recently, a free transfers between the UK and US and fractional investing for free. Getting into lending and offering credit or installment plans for users seems like a natural next step, and now, Square doesn't need to partner with a bank partner to do so; they'll have a willing bank partner within the Square ecosystem.
Things I'm Reading
Since I'm bored AF during this quarantine, I'm gonna start suggesting things to read.
First, I highly recommend checking out my friend Polina's newsletter, The Profile. Polina recently left Fortune after 5 years and went full time on The Profile, which features curated longform stories on people and firms in the business word. All of her picks are great and I have a lot of fun learning more about the topics she selects.
Another friend of mine who recently went full time on newsletter is Nikhil Krishnan, who writes a lot about healthcare and tech. With COVID-19 on our minds, Nikhil's recent issue was a great read.
Lastly, I wanna recommend Trapital. Dan Runcie writes about the business of hip-hop. I'm always so jealous when I read Dan's stuff because it's *that good.* For example, those of us who know about Cash App know that its viral, popular with young people in urban areas, and gets shout out in rap songs. Dan's piece, How Hip-Hop Helped Cash App Grow Faster, is an impeccable overview of just how Cash App leveraged its brand and turned it into a growth engine.
Tweets of the Week
Twitter was depressing this week. I tried to stay off it as much as I could (I still tweet...I just don't browse that much...its normal I swear.)
I thought this tweet on "superconnectors" was worthwhile.
This was a somewhat big deal that went under covered —the new second in command at the OCC (Office of the Comptroller of Currency...they're a financial regulator) is now Brian Brooks, who used to be the chief legal office at Coinbase.
Also undercovered given the names here; Transferwise and Alipay are working together to power international money transfers. Totally missed it if I didn't see Brad's tweet, who's always on top of fintech news.
I really really enjoyed reading this piece on payment networks. The graphic is worthwhile enough, but read the whole piece from Ryan Reeves' Business Breakdown:
Interesting but brief thread from Michael Gilroy of Coatue around business models in fintech
1/2 In the last few months fintechs have essentially lost the ability to take fee income, and net interest margin rakes. API calls, interchange BPS, and SaaS fees will hold up nicely. The first two primarily affect B2C fintechs, and the latter B2B infra. Infra of course dependent
2/2 on B2C as their customer base. I'm excited to see new and innovative business models from consumer facing Fintech founders that will come out of this challenging time.
Consumer spending is gonna be *weird* over the next few months. Here's a tidbit from Goldman, courtesy of my homie Nikita Singareddy of RRE Ventures
And this thread from Nicole Quinn, an investor at Lightspeed, shed some light on consumer behavior changes in China during the COVID-19 outbreak there.
It takes 21 days to build a habit. The longer we stay at home and social distance, the more permanent our new habits become. 🤔What new consumer behaviors emerged in China from these tough times?
Presented By Juno: Learn more about Juno's 2.15% APY for the first 1000 customers, and how it can help you, in this tweetstorm.
1/ 🇺🇸Today, we are coming out of stealth and launching Priority Access on
bankonjuno.com
for first 1000 Users.
#COVID19
is impacting global economy and Fed has cut interest rates to lowest in a decade. With Juno, you can now lock your rate of 2.15% APY for the yearjW
Job of the Week
If you're looking for role, Juno (our sponsor this week) is hiring! Email varun@bankonjuno.com